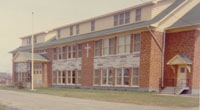 1891-1972



GEOGRAPHICAL LOCATION
Clarenceville is south of Henryville, west of Bay Missisquoi, east of Richelieu and north of the U.S. border.

FOUNDING
For eight years, Father Gédéon Gaudreau, parish priest, gave of himself with inexhaustible zeal to bring a good number of his parishioners back to the Catholic faith. He was saddened by the fact that their children were constantly in contact with Protestant teachers and students. He entrusted his project to Bishop Louis-Zéphirin Moreau who promised to send him some Sisters of Saint Joseph by autumn 1891.

FOUNDERS
On September 12, 1891, the first sisters arrived at the Bedford train station, on their way to Clarenceville:
Sister Saint Coeur de Marie (Marie-Louise Bouchard)
Sister Saint Patrice (Anna Ranson)
Sister Saint Alphonse de Liguori (Rose-Anna Vincent)
Sister Marie du Bonsecours (Odina Richard)

BOARDERS
In 1891, the convent was opened. Sixty boys and girls were registered for class. Of these, thirty were boarders who arrived Monday mornings and left Friday evening. Each of the boarders brought his/her own food for the week. By 1935, the number of boarders had increased to eighty. The older boarders were no longer required to bring food but had to pay a monthly board. This varied according to age.

DEPARTURE
In June 1972, the sisters left the parish for good.
Go back to last page