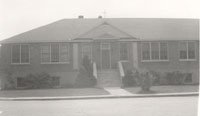 1950-1963



HISTORICAL NOTES AND GEOGRAPHICAL LOCATION
The parish of Ange Gardien, founded around 1855 as an offshoot of St. Cesaire of Rouville, covers forty and a half square miles and includes the two civic municipalities of Ange Gardien set up in 1854 and of Canrobert set up in 1870.
Its limits touch the parishes of Farnham, St. Cesaire, St. Paul of Abbotsford, St. Alphonse of Granby, Adamsville and Brigham.
FOUNDING
On November 6, 1948, the general council of the community agreed to found a house in Ange Gardien. The first four sisters arrived there on August 30, 1950.

FOUNDERS
Sister Marguerite of the Sacred Heart (Yvonne Parent)
Sister Saint Josaphat (Marie-Louise Capistran)
Sister Saint Edme (Gabrielle Girouard)
Sister Saint Alexis (Denise Sylvestre)

DEPARTURE
In June 1963, the sisters left Ange Gardien definitively, after being present in the parish for 13 years, during which time they worked with the children.
Go back to last page