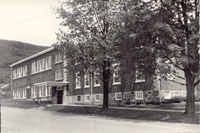 1930-1980



GEOGRAPHICAL LOCATION
This parish, surrounded by St. Pie, St. Cesaire, Ange Gardien, and the townships of Milton and Granby, was originally meant to be called St. Paul Apôtre. When constituted, the parish covered six miles in one direction and seven in the other.

FOUNDING
In 1925, the school board of the town of Abbotsford built a magnificent brick schoolhouse. Thanks to parish projects, of which Father Azarie Couillard-Després was the soul and the driving force, the school was made ready to welcome some sisters. Despite his desire to receive the them immediately, it was only in 1930 that Father Couillard-Després was able to made his request to the Sisters of Saint Joseph. Sister St. Maxime (Marie-Louise Bouvier), superior general, granted his request.

FOUNDERS
Sister Sainte-Marie-Bernard (Alice Bourassa)
Sister Sainte-Brigitte (Elmire Martel)
Sister Saint-Éloi (Cora Daunais)
Sister Saint-Ephrem (Corona Leduc)

DEPARTURE
The sisters left the parish of St. Paul in June 1980, after fifty years of presence and dedication in this milieu.
Go back to last page