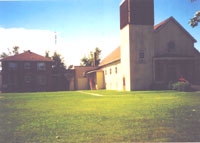 1991-2001



GEOGRAPHICAL LOCATION
Venise en Quebec, a vacation resort north of Lake Champlain, is surrounded by the towns of : St. Sebastien, St. Georges de Clarenceville, and St. Pierre de Véronne.

FOUNDING
Venise en Quebec was given the status of parish on April 26, 1950, at the request of about 20 local people. The parish was named «St. Martyrs Canadiens».

FOUNDRESSES
Sister Maryse Gauvin
Sister Fernande Fournier
Sister Fernande Pelletier
Sister Thérèse Tougas
Sister Fernande Boucher
Sister Ginette Fortier

AREAS OF COMMITMENTS
Venise en Quebec is part to the Les Seigneuries du Lac parishes unit which includes the parishes of St. Sebastien, Henryville, St. Anne de Sabrevois, St. Alexandre, and St. Jacques de Clarenceville. The sisters were mostly involved in pastoral ministry with the elderly, pastoral activities at the Sanctuary, and parish pastoral work: liturgy, adult, youth and children's faith education; baptisms (special ministry authorizing the person to preside at baptisms); and pastoral ministry in the four local schools.

DEPARTURE
In 2001, the sisters withdrew from this town.
Go back to last page