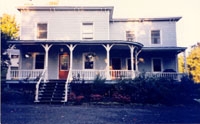 1912-2001



GEOGRAPHICAL LOCATION
The parish of St. Edward surrounds Lake Brome. Its neighbours are Bolton on the east side, Sutton Junction on south and Cowansville on the west.

FOUNDING
The inhabitants, mostly English-speaking Protestants, had an influence on the French-speaking and English-speaking Catholics. Their children attended the same school. Father H. Bélisle wanted to open a separate school. After five years of dedication and a constant struggle, he convinced his parishioners that separate schools were needed along with teaching sisters. Bishop Bernard helped him get some Sisters of Saint Joseph for this project. During the summer of 1912, he undertook to build a school connected to the old presbytery. The presbytery was renovated and became the sisters' residence.

FOUNDERS
Sister St. Hilaire (Exina Desrocher)
Sister St. Cyrille (Orise Tougas)
Sister St. Viateur (Hedwidge Bernier)
Sister St. Eugène (Clara Boileau)

MOVE
In 1978, the sisters bought a residence on Maple Street and moved into it.

DEPARTURE
In 2001, the sisters left Knowlton after 89 years of presence there among the children.
Go back to last page