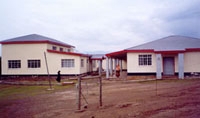 1958-    



GEOGRAPHICAL LOCATION
Mashaï is situated not far from the forks of the Orange and the Mashaï. This house in the mountains is built at an altitude of 8000 feet, on a plateau surrounded by bare peaks.

FOUNDING
In 1966, Father Albert Girard, OMI, parish priest, asks Mother Saint-Madeleine-de-Pazzi, general superior, on an official visitation in Basutoland, to send him some Sisters. Since no Canadian Sisters are available, he is offered some native Sisters able to assume the responsibility of the mission.

FOUNDERS
'Me Josepha (Anna Mondwene)
'Me Maria-Louis (Anastasoa Moqekela)
'Me Paullus (Pascalina Molibeli)
'Me Cypriane (Agnes Pita)

COMMITMENTS
The first year, they teach in a school attended by 254 pupils.
On February 24, 1958, a sewing school is opened for a dozen pupils. On June 17, 1958, a Sister is put in charge of the dispensary.
In 2002, at St. Theresa, we have a large health centre where our Sisters care for the sick. Our Sisters also work at the preschool centre and the maternity ward. They teach at the primary school. In the parish, they are involved in the preparation for the reception of the sacraments of Eucharist and Confirmation. They are catechists to youth and to adults.
Go back to last page