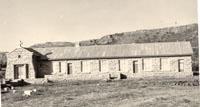 1953-   



GEOGRAPHICAL LOCATION
Roma is 40 kilometres from Maseru, the capital of Lesotho formerly Basutoland. Roma is almost 6000 feet above sea level. It is surrounded by the Machache, Thaba-Bosiu, and Thaba-Tele mountains.

FOUNDING
When Mother St. Madeleine de Pazzi (Sara Cordeau), superior general, visited Lesotho in 1950, Bishop Joseph-Delphis DesRosiers, OMI, invited her to provide sisters to care for the St. Augustine Major Seminary which was under construction. In July, it would be ready to receive the sisters.
This founding meant that the Sisters of Saint Joseph would have a house in the episcopal city.
This house would serve as a residence for the sisters studying at the Normal School or at the University in Roma.

FOUNDERS
Sister St. Henri (Lucienne Ménard)
Sister St. Juliette (Fernande Fournier)
Sister Paulus (Pascalina Molibeli)
Sister Clara (Augustina Mohanoe)
Sister Anna-Maria (Constantia Moeti)

AREAS OF COMMITMENT
In 1997, the Canadian sisters left the seminary in Roma. The Basotho sisters stayed on and continued the fine work the sisters had always done.
The sisters currently serve at the St. Augustine Seminary in a number of ways. With the help of lay women, they cook for the staff and students, sew their clothes and do their laundry. As well, they accompany the youth and adults of Roma parish.
Go back to last page