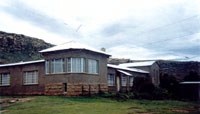 1997-   



GEOGRAPHICAL LOCATION
Mount Olivet is in the south of Lesotho, in the district of Mafeteng. It is part of the Mohale's Hoek Diocese. Mount Olivet is not far from Hell's Port Pass.

FOUNDING
On February 1997, the Sisters of Saint Joseph took over from the Holy Cross Sisters who had left in 1995.

FOUNDERS
Sister Celestina Rammea
Sister Alice Molato
Sister Veronica Moeketsi
Sister Johanna Mokhachane
Sister Leonia Maghama

AREAS OF COMMITMENT
In Mount Olivet, the sisters teach the children in the primary school as well as the little ones in kindergarten. They see to the needs of the primary and high school girls who are boarders. They care for the sick at the Mount Olivet Health Centre. They are involved in the parish, accompanying young people and adults.
Go back to last page