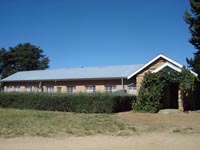 1956-   



GEOGRAPHICAL LOCATION
This mission is situated along the main route of Lesotho, thirty miles from Mazenod and fifty miles from Roma.

FOUNDING
In 1954, Reverend Father Honorat Labrecque knocked on the doors of the Sisters of Saint Joseph and the Sisters of the Holy Names of Jesus and Mary. Mother Madeleine de Pazzi (Sara Cordeau), superior general, promised him two sisters from Quebec and two from Lesotho for 1956.

FOUNDERS
Sister Saint Richard (Élise Richard)
Sister Sainte Helene (Cécile Dupré)
Sister Elisabetha (Veronica Motuka)
Sister Damiane (Alphonsina Morapeli)

COMMITMENT
The sisters teach at the primary school and the high school. They accompany the young people and the adults of the parish by preparing them for communion and confirmation.
Go back to last page