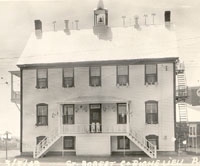 1899-1998


GEOGRAPHICAL LOCATION
St. Robert's neighbour in the north is St. Pierre de Sorel, in the south Massueville, in the east Yamaska and in the west St. Victoire.

FOUNDING
Around the end of June 1899, Father Olivier Leduc arrived at the Mother House to ask for sisters for the school in his parish. He was not given an answer at the time since prayer and consultation was required before such a decision. Finally, the major superiors agreed to provide sisters.

FOUNDERS
Sister du Sacre Coeur (Alphonsine Perron)
Sister St. Veronique (Hélia Duval)
Sister St. Alexis (Rose-Anna Sylvestre)
Sister St. Jean Baptiste, novice (Marie-Luce Cormier)

PURCHASE OF A HOUSE
Since the school needed more room for the pupils, the sisters who had till then resided in the school building moved into a house at 655 St. Robert Road, on May 27, 1981. The congregation had purchased this house, across the street from the church, from Mrs. Joseph Rivard.

DEPARTURE
On July 7, 1998, the sisters left this parish for good after 99 years of presence and dedicated work among the children and the citizens of St. Robert.
Go back to last page