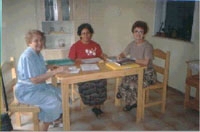 1999-2003



GEOGRAPHICAL LOCATION
This new mission, opened in 1999, is in the diocese of Crateus. It is in the state of Ceara whose capital city is Fortaleza. It is at 240 metres above sea level. This part of the diocese is in the northern sector.

FOUNDING
In answer to the request made by Bishop Jacinto Furtado de Brito Sobrinho, of Crateus, a first community of Sisters of Saint Joseph was founded in the state of Ceara. The official opening took place during a parish eucharistic celebration at which Bishop Jacinto presided. The regional superior, Sister Domingas Socorro Rodrigues Ferraz, was present for this important event in the missionary history of north-east Brazil.

FOUNDERS
Sister Laurizete Pinto Barbosa
Sister Monique Lemieux
Sister Telma Pereira dos Santos

AREAS OF COMMITMENT
Three professed sisters currently make up this community. Sister Estelle Giard lives in Nova Russas, Sister Monique Lemieux lives in Crateus and Sister Laurizete Pinto Barbosa works in Crateus and in Nova Russas. Each is involved in parish ministries in her milieu. The three also work for the diocese and participate in diocesan activities.
DERPARTURE
This mission closed the doors in 2003.
Go back to last page