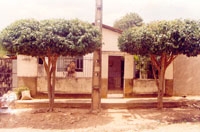 1983-2004



GEOGRAPHICAL LOCATION
Curimatá, where the Sisters reside, is situated to the south of the state of Piaui, near the state of Bahia. It is part of the diocese of Bom Jesus, the most important city of that region.
The Sisters work also in the municipalities of Parnaguá and Avelino Lopes, approximately 48 kilometers from Curimatá.

FOUNDING
The initial objective of the auxiliary bishop of Bom Jesus in asking for Sisters is to create a life community and, from this, a presence to the two neighboring parishes, in order to form, in collaboration with the resident priests, lay persons committed to pastoral work who would later take the leadership of basic ecclesiastical communities.

FOUNDERS
Sister Agathe Brodeur
Sister Laurizete Pinto Barbosa
Maria da Luz Bastos Barbosa

DEPARTURE
The sisters left Curimata for good in December 2004 after 22 years of service to the people of this city.
Go back to last page