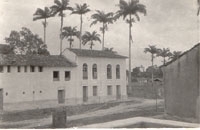 1958-2002



GEOGRAPHICAL LOCATION
Cururupu is on the coast of the Atlantic Ocean. Its surrounding neighbours are Turiaça, Guimaras, and Santa Helena.

FOUNDING
On January 20, 1958, Bishop Arthur Douville, bishop of St. Hyacinthe, wrote a letter to Mother Sainte Madeleine de Pazzi (Sara Cordeau), superior general, asking for a few of her daughters for the St. Hyacinthe mission in Brazil. She agreed to his request. The departure date was set for October 2. The sisters arrived in Cururupu on October 10, 1958.

FOUNDERS
Sister Marie de la Sallette (Cécile Pelletier)
Sister Marie Saint Omer (Marie-Stella Monast)
Sister Marie des Anges (Rolande Crevier)
Sister Sainte Honorine (Estelle Giard)

MOVE
In June 1991, the sisters moved to Serrano. Four years later, they returned to Curururpu and took up residence on Maranhao Sobrinho Street.

DEPARTURE
The sisters left Cururupu for good in January 2002 after 44 years of service to the people of this city.
Go back to last page