Saint Boniface (Langevin Street)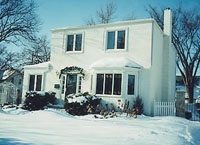 1979-1994



GEOGRAPHICAL LOCATION
Because the members of the regional council of the West had to travel great distances to attend meetings and frequently had to stay overnight, a house was bought in the city for this purpose. This residence was located in the St. Cathedral parish.

FOUNDING
The sisters arrived on March 25, 1979.

FOUNDERS
Sister Florence Désorcy
Sister Alexina Miclette
Sister Cécile Trudeau
Sister Marie-Rose Verrette

AREAS OF COMMITMENT
One sister taught catechetics and co-ordinated the K-12 catechetics program at Precious Blood School.
Some sisters sat on the diocesan pastoral council, the parish council, and a the diocesan committee studying the role of women in the Church. They also worked as link people for the Development and Peace Association. As well they opened their house to sisters passing through the city who needed a place to stay.

NEW COMMITMENT
In 1992, the house became a local community with three sisters doing volunteer work.

DEPARTURE
On November 3, 1994, the sisters left the house for good and took up residence in Lorette.
Go back to last page