São Luís : Vila Brasil, MA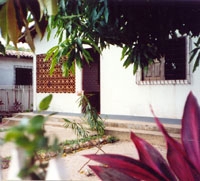 1987-   



GEOGRAPHICAL LOCATION
This mission is situated in the region next to the airport in São Luis, Maranhão.

FOUNDING
Following an intervention by the military police to expel the first inhabitants in this region, Bishop Paulo Ponte, newly assigned to São Luis, visited the place and was touched by how poor and abandoned these people were. He told Father Fernando his wish that these people be helped by a group of sisters.
In November 1985, Sister Elcita dos Santos Bastos, regional superior, received a letter from Father Fernando asking for sisters to do pastoral work and educational counselling in the school. In 1986, the general government of the community accepted this new project and some sisters took up residence in this poor milieu.

FOUNDERS
Sister Madeleine Francoeur
Sister Lucila Moreira Silva

AREAS OF COMMITMENTS
Currently the sisters living in Vila Brazil work in education: as counsellors or teachers at the pre-school or primary school levels at N.S. Aparecida; at high school level in the public school; in psycho-social rehabilitation in a hospital. In the pastoral area, the community offers its services on the community council, in the Legion of Mary, in youth and vocational pastoral activities.
Go back to last page