Bonsecours
(Notre Dame School)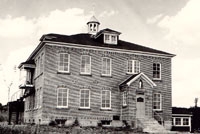 1949-1987


GEOGRAPHICAL LOCATION
Notre Dame de Bonsecours [Our Lady of Good Help] is south of Racine and Valcourt, north-west of St. Elie and Eastman, east of Lawrenceville and St. Anne of Larochelle.

FOUNDING OF THE SCHOOL
In 1948, Father Euclide Rousseau, parish priest, with the consent of the school board members, asked Mother Sainte Madeleine de Pazzi (Sara Cordeau), superior general, for some sisters for the school which was to be built by September 1949. The request was granted.

FOUNDERS
Sister Marie du Saint Esprit (Laura Delisle)
Sister Therese des Anges (Bernadette Brasseur)
Sister Imelda du Saint Sacrement (Imelda Hébert)
Sister Emile du Sacré Coeur (Bernadette Plante)

DEPARTURE
On July 3, 1987, the sisters left the parish of Bonsecours for good, after having worked there as educators for 38 years.
Go back to last page