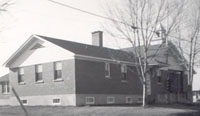 1942-1976


GEOGRAPHICAL LOCATION
The parish of St. Damase is situated between the mountains of Beloeil, Rougemont, and St. Paul. It is surrounded by the territories of St. Hyacinthe, St. Pie, St. Cesaire, Rougemont, St. Jean Baptist, and St. Madeleine. The Yamaska River flows south to north through the town, that is to say, from St. Cesaire to St. Hyacinthe.

FOUNDING OF THE CONVENT
At the request of Father Charles-Alfred Perrault and the school board of St. Damase, represented by Mr. Téléshore Hébert, president, Mother St. Jean Berchmans (Blanche Meunier), superior general, accepted to send some sisters for the town school in September 1942. Thus Bishop Fabien-Zoël Decelles' dream came true. He had always hoped for Sisters of Saint Joseph in his native parish.

FOUNDERS
Sister du Sacré-C?ur (Cécile Bousquet)
Sister Angéline-de-Jésus (Jeanne Asselin)
Sister Thérèse-des-Anges (Bernadette Brasseur)

DEPARTURE
On June 27, 1976, the sisters left the parish of St. Damase after working there for 34 years.
Go back to last page